Bill Berger Wins Ashtabula Pro Am Open Class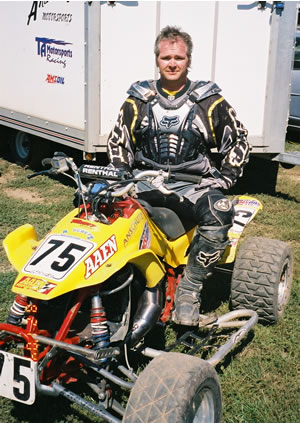 Our long time friend and sponsored test driver Bill Berger took home first place In the Pro Am Open Class at the '04 Ashtabula, Ohio National TT races. Bill's Weapon is a 500cc Suzuki Quadzilla engine with numerous mods, including a special fitted version of our Quadzilla race pipe stuffed into 250 Honda Four Trax frame! Bill put it all to the track to roost some very heavy competition for his open class win. Congratulations Bill!!


Bill also races a Yamaha YZF 450, and does our testing on racing mods for this hot Yamaha model. Bill blitzes the Midwest competition with his Aaen Megapower Racing Exhaust, high compression piston, racing cams and modified ignition box.

Kevin Heap wins with modified Arctic Cat DVX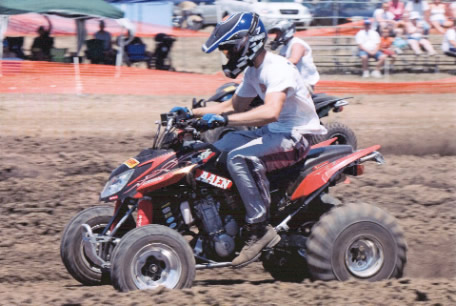 Kevin Heap beating a Yamaha YFZ 450 with his modified Arctic Cat 400 DVX on his way to the win at Chillicothe, IL in 2005.

Gary Heap and his family are longtime customers, and when son Kevin wanted his Arctic Cat ATV modified for drag racing we were eager to work with them. The Heap farm includes a test strip that is heavily used to evaluate performance mods, so we knew we would get valuable feedback on our parts. Kevin chose our The head was extensively ported, and Kevin claims the head mods made a big difference in top end power. The end result is a very lightweight machine that can beat Yamaha YFZ 450ís, which Kevin did at many races. Kevin won several classes at Chillicothe, Knoxville and Aledo Illinois.


Congradulations to Derek Malone
Congradulations to a young and aggressive rider Derek Malone, who drove his Polaris Predator 500 to an impressive win at the Monkey Butt fall drag race in Milton, Wisconsin.